The World Cultural Festival #WCF is being celebrated this week on the Yamuna floodplains. The social media is abuzz with reports and like always, there is a mix of controversies, and slander by the media and Hinduphobics, coupled with the enthusiasm of the followers of Sri Sri Ravi Shankar. Today is the second day, and the social media reports and images bear testimonials of its huge success. The chanting of the Vedas on the Ghats was the highlight of the first day.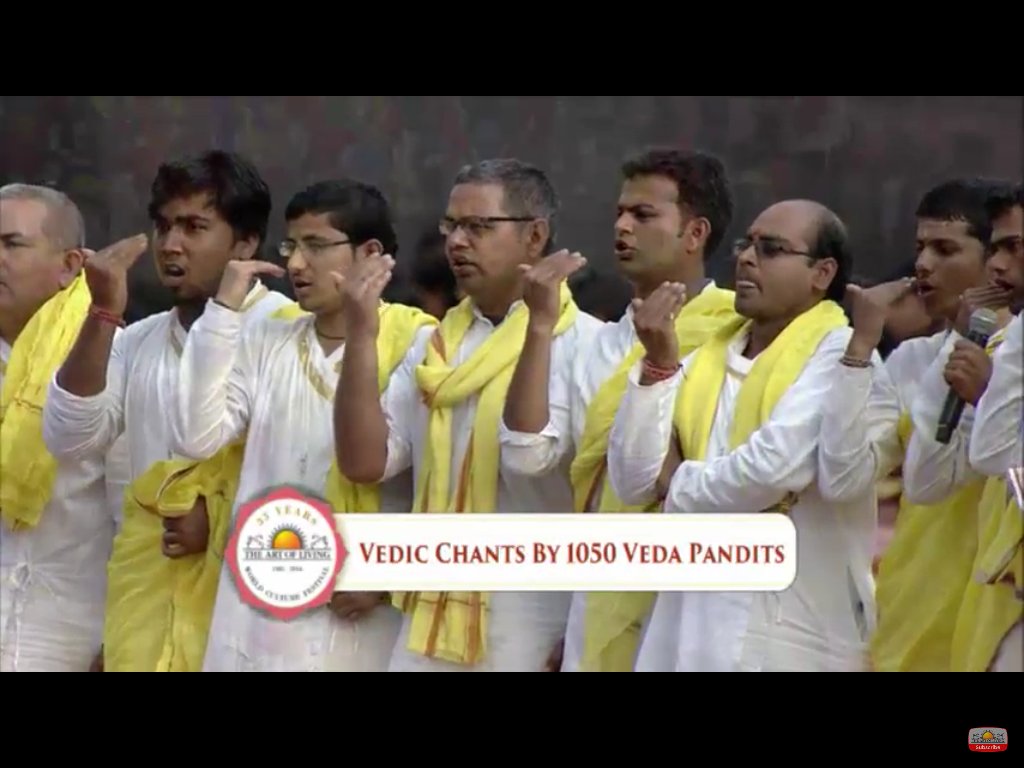 Each time a spiritual event is organised by any Hindu organisation or certain people spend their money on religion, temples, or pilgrimages, a section of elitist question their choice and remind them that their money is better spent on charity. This question is not asked of any other religion or group and Hindu religious and spiritual expenditures are deemed extravagant. Who is anyone to decide what is the right way to spend funds? There are two questions that come to my mind. First, have the umpteen charities around the world been able to eradicate poverty? A lot was done for Africa, many philanthropists are doing so much in their own rights, Mother Teresa had people donating millions. Could these millions ever make even a noticeable dent anywhere? Second, by this logic, people preaching should donate maximum earnings to charity. After all, what is more important? A life of luxury with a big house, a personal car and a chauffeur, or just enough to cater to the basic needs with the remaining amount just given away in charity. These are the people who cannot do without their single malts and the daily quota of expensive cigarette. In fact, such people should have some daily langar/soup kitchens at home, feeding maximum poor and hungry first. The entire world should convert to a socialist republic, keeping only enough for self-sustenance and donating the rest away. This reminds me so much of 'the ant and the grasshopper' story with an Indian twist.
---
Indian Version

The Ant works hard in the withering heat all summer building its house and laying up supplies for the winter.

The Grasshopper thinks the Ant's a fool and laughs & dances & plays the
summer away.

Come winter, the shivering Grasshopper calls a press conference and demands to know why the Ant should be allowed to be warm and well fed while others are cold and starving.

NDTV, BBC, CNN show up to provide pictures of the shivering Grasshopper next to a video of the Ant in his comfortable home with a table filled with food.

The World is stunned by the sharp contrast. How can this be that this poor Grasshopper is allowed to suffer so?

Arundhati Roy stages a demonstration in front of the Ant's house.

Medha Patkar goes on a fast along with other Grasshoppers demanding that Grasshoppers be relocated to warmer climates during winter.

World universities, Sheldon Pollack, Wendy Doniger, and evangelist organisations criticizes the GOI for
not upholding the fundamental rights of the Grasshopper of different religion and social class.

Hinduism is derided and people call for a ban on the Hindu religious freedom and call it the tyranny of the Ant to belong to upper class.

The Social Media is flooded with online petitions seeking support to the
Grasshopper (many promising Heaven and Everlasting Peace for prompt support as against the wrath of God for non-compliance).

Opposition MPs stage a walkout. Left parties call for 'Bharat Bandh' in
West Bengal and Kerala demanding a Judicial Enquiry.

CPM in Kerala immediately passes a law preventing Ants from working hard in the heat so as to bring about equality of poverty among Ants and
Grasshoppers.

UPA wants Modi's apology and resignation.

JNU celebrates the anti-ant day and commemorates the grasshoppers for defying rules and not working.

NDTV and CNN-IBN cover the grasshopper's plight for days. Grasshopper is invited to the news channels and gives a passionate speech. He is declared a natural leader endorsing equality and 'freedom'.

Finally, the Judicial Committee drafts the 'Prevention of Terrorism
Against Grasshoppers Act' [POTAGA], with effect from the beginning of the winter.

The Ant is fined for failing to comply with POTAGA and having nothing left to pay his retroactive taxes, it's home is confiscated by the Government and
handed over to the Grasshopper in a ceremony covered by NDTV, CNN-IBN, India Today, Aaj tak.

Arundhati Roy calls it 'A Triumph of Justice'.

Lalu calls it 'Socialistic Justice '.

CPM calls it the 'Revolutionary Resurgence of the Downtrodden'

..

..

Many years later…

The Ant has since migrated to the US and set up a multi-billion dollars
company in Silicon Valley.

100s of Grasshoppers still die of starvation despite reservations somewhere in India …

As a result of losing lot of hard working Ants and feeding the Grasshoppers, India is still a developing country!!!
---
I had seen this fixation of the older generation with charity. Little did I know that this bug is hale and hearty and continues in the current 'youth', who are personally very well-off. Why do we want to create a world of beggars, depending upon charity? When did charity resolve any issues? It is true that there are sections of society that are deprived, in India and the world. However, I do not see anyone give up on their personal life and take to the life of social service. Practice what you preach first.
Talking of WCF, from what I know, Sri Sri and Art of Living has been doing a lot of charity and social work. It runs 425 free schools across 18 states of India, providing free education to more than 39,200 children in the slum, tribal and rural belts where child labour and poverty are widespread. I am not a follower, however, it pains me to see a certain section of detractors who have an opinion on almost everything Indian (read Hindu). They can see nothing right in the Indian system, Hindu religion, present government, and anything that is not leftist. Hence, I have an opinion against their opinions.
I am reminded of Ayn Rand:
---
"the penalizing of ability for being ability, the penalizing of success for being success, and the sacrifice of productive genius to the demands of envious mediocrity."

― Capitalism: The Unknown Ideal
---
||Sarvam Sri Krishna Arpanamastu||